We have recently become aware of a website with the name Official Coolair. This purports to offer for sale a small desk-top air conditioning unit and is being heavily promoted via various websites such as www.officialcoolair.com.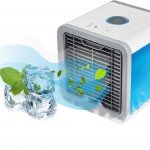 Coolair Equipment Limited wish to make it clear that we have no involvement, association or collaboration with this product or with any company attempting to market or promote this product.
Coolair Equipment Limited are market leaders in the design, supply, installation and maintenance of market leading brands of air conditioning equipment in the UK and should you require our expertise in any of these services our website is www.coolair.co.uk. We do not offer for sale any "Coolair" branded products.