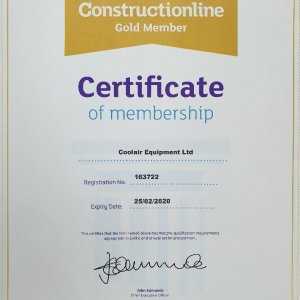 Constructionline work with thousands of buyers across the public and private sectors, who use this platform to quickly identify suppliers with the range of skills and expertise to complete a whole range of construction projects.
Gold membership means that our credentials not only for environmental and quality management, equal opportunities and BIM have been assessed, but that our policies and procedures on enhanced health and safety, equalities and modern slavery also meet the set standards.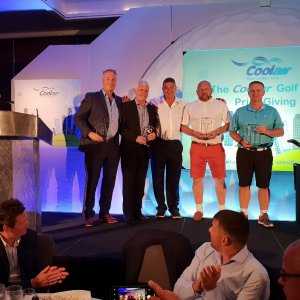 5th July saw absolutely glorious weather for our annual golf day at Mere Golf Resort. Huge thanks to all our clients who attended and helped make it a memorable day as always.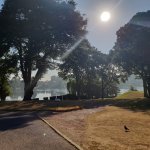 This year marked the end of an era however, as it is to be the last time Nick "Mr Coolair" Parker plays this magnificent course. Having founded Coolair back in 1980 and our annual golf day very soon after –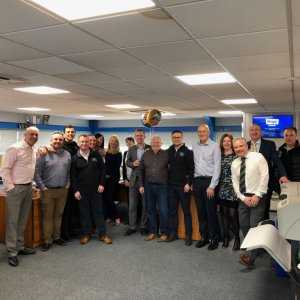 Everyone would like to say a fond goodbye and Happy Retirement to Malcolm Price, who has been a part of our Cannock office team for the past 13 years.
During his time at Coolair, as a senior salesman  Malcolm has looked after his clients superbly well as many of them have told us. He's also been a big part of the Cannock team and the office will I'm sure seem a lot quieter without him.
Poplar Street Primary in Audenshaw have been contacting local businesses to try and raise money for a badly-needed school library.
The building should be completed in April and be a valuable resource for the school. Coolair have helped out by donating money to help fill the new library shelves with books.
Thanks to all the pupils for the lovely Thank You Letter we received today School library books,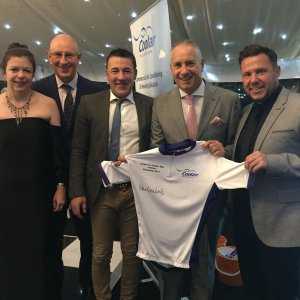 Only 10 days to go now until our team of cyclists set off for Vietnam and Cambodia on our second expedition to raise money for Challenge Cancer UK.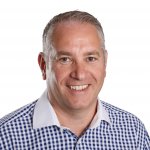 Neil Gibbard, Midlands Regional Director held a Charity Dinner at Moxhull Hall on Friday 13th which once again was a great success, raising in excess of £2,100 for this very worthy cause. Guests were entertained by footballing legend Dean Saunders and comedian Aaron James.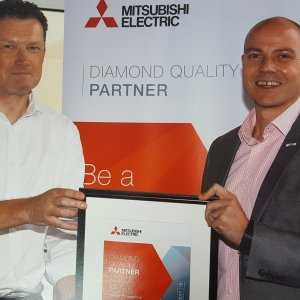 Coolair are pleased to announce our inclusion in a select group of elite HVAC experts chosen to work in partnership with Mitsubishi under their new Diamond Contractor scheme.
Diamond Contractor certification recognises that as a company we have achieved an exceptional level of training, expertise and customer satisfaction and that we are identified as experts in the design and installation of HVAC systems using Mitsubishi Electric's extensive range of products.
This brings real benefits to our customers,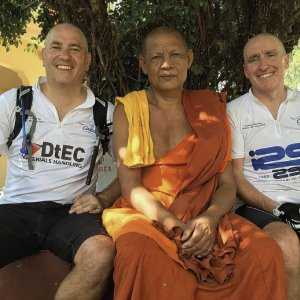 Simon Hale from the Sutton Coldfield Observer recently caught up with our team of riders following their impressive feat cycling through Vietnam, raising £90,00 along the way for Challenge Cancer UK.
You can view a .pdf of the article HERE which appears in the September issue of their JOURNAL magazine.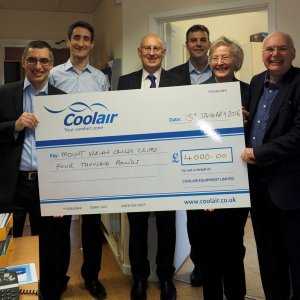 Following the success of Coolair's recent Vietnam to Cambodia cycle challenge, our chosen charity Challenge Cancer UK kindly donated £4,000 of the monies raised to a local charity, the Mount Vernon Cancer Centre. These funds will contribute towards much needed research into bone scanning which can help provide a more accurate diagnosis.
Margaret Jeeves (2nd right) the mother of Matt Jeeves who joined Team Coolair on the cycle challenge is currently being treated at the centre.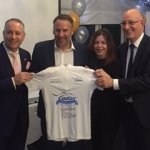 Friday 13th was certainly not unlucky for Coolair staff & clients who attended our final fundraising event for our charity cycle ride in Vietnam & Cambodia, held at Moxhull Hall.
The marquee was packed and guests enjoyed an evening's entertainment including speeches, comedy, a prize raffle and charity auction.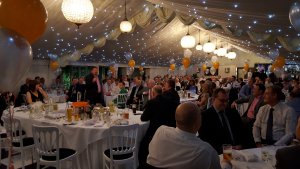 Ex-footballer & now Sky Sports pundit Paul Merson gave a frank and amusing account of the highs & lows of his career,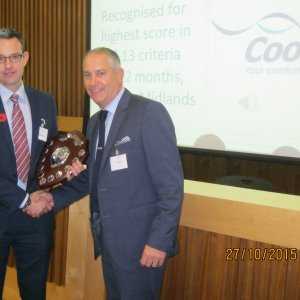 On behalf of our Midlands team, Neil Gibbard (Regional Director) was delighted to collect the SES Engineering Services award for Midlands Region "Safe Company of the Year" at their awards ceremony last week.
This came in recognition of the work done by our team on the BET365 contract in Stoke-on-Trent, a large and prestigious contract over several months, and on which our positive H & S culture has seen us top scoring sub-contractor in the SES Midland region SHE league table.