Our annual tournament was held on 1st July at Mere Golf Resort & Spa in Cheshire, and once again was a great success. The sun shone, the course was in great condition as always and everyone enjoyed a relaxed afternoon's golf.
The winning team walked away with their trophies, but for the second year running all prize money was instead donated to a charity who's work is helping with the challenging times we've all been through.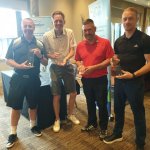 This year our chosen charity is Young Minds, who do great work supporting young people with mental health issues. It's widely recognised that young people have suffered due to the effects of lockdown, and as Coolair have had a policy of recruiting, training and developing young people right through our 41 year history, this is a cause we wanted to support.
Our thanks go to the team at Mere for their superb organisation, our event sponsors Mitsubishi Electric UK, everyone from Coolair who got involved and most importantly all the customers who took time out of their busy week to join us, we hope you had a fantastic day.
Details of our donation are below, and we look forward to another great day next year.
"Thank you so much for your kind donation to YoungMinds, this will make an incredible difference to our work supporting children and families affected by mental health problems.
Despite the growing recognition of the mental health crisis in young people, help sadly remains much too difficult to find for many children and families. We are leading the fight for a future where all young minds are supported and empowered, whatever the challenges. We achieve this by providing expert knowledge through our free and confidential Parents Helpline, participation with young people, professional training, work in schools and ensuring mental health is placed firmly on the public and political agenda.
Without your help we would not be able to make an impact to the lives of children, young people and their families affected by mental health issues across the UK.
On behalf of all of us at YoungMinds, thank you.
Donation order confirmation: YM18876
COOLAIR EQUIPMENT LIMITED
Donation value: £2,000.00"