Here at Coolair Equipment Limited we are kicking off our 40th year by unveiling our new fleet and new look!
The 20-strong fleet of top spec Citroen commercial vehicles will operate around the country, from our network of sites across the UK.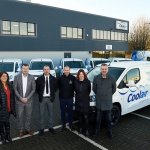 Each vehicle has been wrapped in digitally printed bespoke graphics which showcase our new branding for 2020 our 40th-anniversary year.
The vans will be used by our installation and maintenance teams.
Helen Sharratt, Finance Director, said: "The new fleet is the highest-spec available to ensure maximum driver comfort and safety and we are very excited about the new look. It's a great way to kick start our 40th anniversary.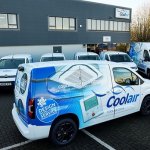 "We have been working with leading designers and vehicle wrap experts to create what we think will be the best-looking fleet in the sector. We now have a fleet people will really notice. There will be no mistaking us."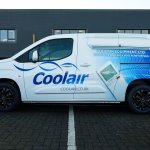 What's more, the new fleet is in line with our commitment to the environment and all 20 new vehicles are fitted with BlueHDi – the world's most effective technology for reducing diesel emissions – cutting nitrogen oxide by 90 per cent and ensuring CO2 stays well below current EU limits.
The fleet comprises: Berlingo XL small vans for the aftersales division, 13 Dispatch XL for install teams and a Relay, long-wheelbase van for Coolair Equipment's Manchester-based ducting team.
As well as BlueHDi, the vehicles are specified for comfort and safety to include: air conditioning, cruise control, SatNav, DAB radio, speed limiters and front and rear parking sensors.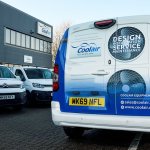 The design and branding for the new-look Coolair Equipment vans was done by Aura Graphics – the same creative team behind the Sky vans.