Time to pop the champagne and cut the cake, Coolair has turned 40!
That's right, today Thursday February 13, 2020, marks 40 years since Nick Parker walked into Companies House and registered Coolair Equipment Limited.
Back then, the average wage was £6,000 and a litre of petrol was just 28p. Oh yes, and less than half of our current members of staff were born!
Here's how the business that began with just three members of staff in a small terraced house in Gorton went on to employ 80 people in three offices across the UK.
February 13, 1980
Coolair Equipment Limited was officially registered, with Nick Parker, Mike McCourts and Mandy Doherty at the helm.
The firm started trading from its first office – which was actually a small terraced house – on Debdale Lane in Gorton, east Manchester.
Nick and Mike first met at Climate Equipment in Hazel Grove and were inspired to start their own business, knowing they could bring something new to the air-conditioning industry. 18 months later they were joined by Phil Plant, another former colleague from Climate Equipment and the trio went on to form the first Coolair management team.
Together they pioneered the 'Cosy Coolair' culture, putting staff at the heart of the business – something which still very much exists today.
Our very first job, order EQN1000, was for ICI at its Blackley workshop and our Manchester team still record sales in the very same way using the same order books – getting hold of new books in these digitally-focused days can prove challenging.
In these early days, we were a Toshiba distributor. Nick – through his contacts at BT – won a significant contract to install large Toshiba split-packaged systems at the UK's first digital phone exchange.
1982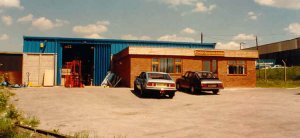 Big changes for Coolair, with the first of several office moves for the Manchester team. We relocated from our humble terrace to the Boat Yard on the Globe Lane industrial estate in Dukinfield.
1984
1984 was the year the sales force was bolstered by two significant hires: Roger Mayers and John Otterson.
Roger, who was a childhood friend of Nick Parker's (they had each been the others best man) was a regional manager of Marley Floors. He went on to become one of Coolair's senior salesmen before retiring in 2010 after 26 years' service.
Another hire from Climate Equipment, John Otterson was brought in to boost the sales team. And boost it he did. John, who is currently our longest serving member of staff, went on to rise through the ranks and was appointed MD in 2012. In 2020 he had plenty to celebrate. In addition to his 60th birthday he also went on to become Chairman of the business.
1985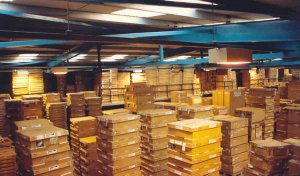 A momentous day in Coolair and Daikin's joint history. Nick Parker, Mike McCourts and Phil Plant travelled to the Daikin factory in Ostend to place an order for Daikin AC for the very first time! Delivered to the UK by container direct from Japan, the order was worth more to Daikin than their previous distributor's annual turnover. A clear indication of our intention to be a big player in industry.
1986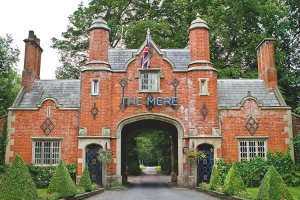 1986 saw the start of a much-loved tradition here at Coolair; our Golf Day at Mere Golf Club. Organised by Roger Mayers, himself a keen golfer, he chose Mere because while the course was excellent, it was – in his words – "a little frayed around edges."
Outstanding facilities and staff who couldn't do enough for us means Mere is still our first choice when it comes to our annual golf days. Today, the event is organised by Paul Evans and takes place on the first Thursday in July. For several years it has been sponsored by Mitsubishi Electric UK, one of our close business partners, and is attended by many clients.
And we are happy to report the course is no longer frayed around the edges.
1987
A big day in our history came in 1987 when we opened our first office outside of Manchester.
The location was Chatham in Kent where two new salesmen, Bob Beatty and Malcolm Gallihawk joined our ranks. Bob was one of the first in the industry to recognise the potential of Daikin's VRV products and began promoting it around the rest of the country. His instincts were spot on and demand for VRV, and Coolair, soared.
1989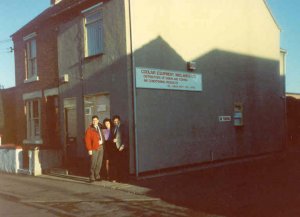 The end of our first decade saw us move into another new territory, this time the Midlands.
Our office at 2 New Street in Cannock helped us secure more national coverage and was headed up by John Otterson. The location was picked purely on John's commute from his Manchester home. A low-key entry into the Midlands market, the office (a former two-up, two-down) was around the corner from an amazing café which kept the Midlands team well-supplied in bacon butties for many years!
1990
We started the new decade as we ended the last, with an expansion, this time for the Manchester team. We moved from the Boat Yard to new premises – Coolair House on Broadway in Dukinfield.
Roger Mayers oversaw the project planning of the new build, which would be extended twice over the next few years as Coolair continued to grow. We moved into our new premises over a single weekend with all our paperwork carried by car.
We are a firm believer in investing in quality, and everything in the new office was top of the range – including the original desks which are still used today.
Talking of quality, another two hires joined the business in 1990. Mike Bintliff joined the sales team – and later the board – while credit control welcomed Jane Atkinson. Both are still with the business and this year are celebrating their 30th anniversaries.
Jane now single-handedly runs our credit control function and each month collects between £2m and £3m in cash to keep the business running smoothly and ensure all our staff and suppliers are paid on time.
1991
A landmark year as Roger Mayers picked up our biggest single order to date – the new-build BUPA premises in Salford Quays. Stuart Curtis, one of our best engineers, retro-fitted the Daikin VRV two-pipe system.
In 2010, another salesmen, Paul Evans replaced the system with new Mitsubishi equipment.
1994
Fast forward three years and it was a visit from a new team of auditors which led to another key chapter in the Coolair story.
The audit senior on the job was Helen Sharratt who, while spending six weeks on site, got to know the Coolair team well.
By 1997 Helen was well versed in the goings-on at Coolair and one evening got a phone call from Phil Plant, Coolair's Finance Director who asked if she would like to join the business. The rest as they say, is history. 23 years later Helen has been Coolair's FD for 15 years and runs the centralised accounts team at our Manchester HQ.
1998
A period of expansion in the Midlands saw the team move to new premises at our current location at Unit J Progress Business Park in Cannock. Our Midlands region continued to grow with several national accounts, including Iceland and JD Wetherspoon, all managed in Cannock.
2002
A new Millennium and a new supplier – this time Mitsubishi Electric UK. This relationship has flourished over the years and Mitsubishi now supplies 60 per cent of the AC equipment we install for our clients.
2006
The Manchester team were on the move once more, this time, to a new Coolair House (next door to the original). New Coolair House, where we still reside today, is much smaller than the original. This is due to changes in the industry which saw Daikin acquire many of its 'non-installing' distributors. Coolair were no longer a Daikin distributor so no longer needed to hold £1m of stock in our warehouse.
New Coolair House has more office space and a small warehouse. This reflects the change in the way we operate, opting for a 'just-in time' model where all equipment needed for a job is delivered direct to site.
2006 also saw us bid farewell to the first of Coolair's founders, Phil Plant. Phil's retirement was structed to allow him an exit from the business but also to bring in some new, younger shareholders who had showed talent and loyalty.
The same scheme has now been used three times as other shareholders have retired and has become an integral part of Coolair's culture, which sees the new generation take responsibility for taking Coolair forward.
2007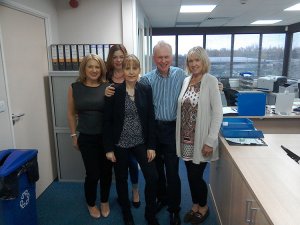 Part of what makes Coolair special is our long-term relationships with our staff, suppliers and clients; one of which began back in 2007 when we won our first e-tender for Santander. We are proud to retain this contract to this day.
Managed by National Accounts Manager Scott Lightfoot, it continues to grow as Santander merges with other UK banks.
This account win also marked a change in the type of work we undertake, moving from solely AC solutions to offering a 'one-stop-shop' including mechanical and electrical works.
Suppliers we continue to work with include:
Datel have been around almost as long as Coolair. Datel look after our Sage accounting system and Robin Lloyd-Jones – once our key contact – retired several years ago but still looks after his 'Coolair Girls', maintaining our system each month.
Bown Enterprises have handled our corporate branding since 1996.
Prolific Financial Services take charge of our staff pensions, healthcare and life assurance and have done since 1997.
ACR and their amazing team of IT experts have helped us develop our IT network since 2003. In an ever-changing area, ACR have been vital in giving us the latest IT infrastructure to help us grow and keep ahead of new developments, including the ever-present cyber security issues every business face.
2012
The end of an era: Nick Parker, Coolair's founder and the man who officially registered the business, retired. And while he may be gone, he left all the integral Coolair traditions in place – including trading in the black and bringing young people up through the ranks. For his retirement he was presented with a framed P45 (which we think he was secretly very pleased with).
2013
A new era for Coolair as a new management team took charge. John Otterson became MD, Helen Sharratt as FD and three regional directors were tasked with carrying on the Coolair philosophy.
2014
A record year for Coolair as turnover topped £28m for the first time.
This year also saw then regional director Neil Gibbard organise Coolair's first bike charity ride to Vietnam and Cambodia. A contingency of Coolair staff and clients cycled over 500km to raise a staggering £90,000 for Challenge Cancer UK.
The charity was close to the hearts of everyone at Coolair and Neil became one of the charity's ambassadors.
2015
We celebrated 35 years in business with a conference at the Hotel du Vin in Cheltenham where we also set out our vision for the coming years.
Vision
"By 2020, to be the undisputed supplier of choice in the UK for the installation and after-care of cooling and heating equipment."
Mission
"To create the ideal indoor environment for people to live and work, now and always."
2020
Today we celebrate our 40 years in the industry. We've gone from a small terraced house in Gorton with three members of staff to three offices in Manchester, Cannock and Kent with a team of 80 (48 of whom weren't even born in 1980).
On February 13, 2020, we will have been in business for 14,600 days and who could imagine back when we started trading in 1980 how different the world would be. Back then we had no emails, no mobile phones and no iPads. We were also in the EU. What a difference 40 years makes!