Karen Swallow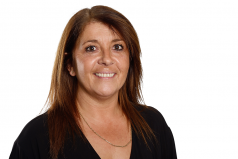 "After three decades in the industry, I am still passionate about new ventures."
"As the Aftersales Admin Manager, I am part of Coolair's newest department.
"My day-to-day role sees me manage the Aftersales diary – ensuring our engineering resource is efficiently allocated, which is integral – especially during periods of high demand.
"But more than that, I am passionate about cementing the position of the Aftersales department as the best in the industry, while helping to grow the department by chasing down new business.
"After 32 years in the industry, I am pooling all the knowledge learnt on the job, as well as my IOSH and ISO9001 Internal Auditing qualifications to make the Aftersales division the very best it can be.
"Away from my desk, I dream of being on a hot sunny beach with my nearest and dearest with a nice cool beer in my hand."