Leading Manchester-based air conditioning installation specialist Coolair Equipment Ltd has successfully met the cooling requirements of the world's biggest online gambling company.
The company, which also has offices in the Midlands and Kent, delivered a winning cooling and heating package for bet365's stunning new state-of-the-art office in Stoke-on-Trent.
The contract, worth almost £1m with SES Engineering Services, involved supplying and installing the latest variable refrigerant flow (VRF) technology so that all 3,000 employees in the three-storey building can work in complete comfort regardless of their area of space and the time of day or year.
The 18 flexible VRF heat recovery systems from Mitsubishi Electric comprise indoor ducted fan coil units that provide simultaneous cooling and heating to bet365's open-plan office spaces and cellular offices, all connected to a centralised control system linked to the company's building management system.
Coolair also installed 12 twin direct expansion (DX) split systems from the same manufacturer to cool all the server rooms, and a further 21 single DX split systems not only for the same server rooms but also for the uninterruptible power supply (UPS) rooms, security lodge and equipment room.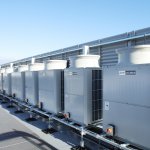 The new air conditioning systems have ensured that bet365 is able to continue to provide a world-leadinround-the-clock online gaming service to its 21 million customers in 18 different languages.
As an accredited Business Solutions Partner of Mitsubishi Electric, Coolair also signed an annual maintenance agreement that includes an industry leading seven-year warranty on all the systems.
Daniel Lawson, SES Project Manager, said: "Coolair proved an excellent contractor to work with on this prestigious project. Their professionalism and willingness to go the extra mile ensured that bet365's new office went live from day one with a perfect working environment."
Coolair Director Neil Gibbard added: "We were delighted to be chosen for our experience, expertise and close association with a world-leading manufacturer to carry out one of our biggest-value contracts for such a successful service company and major employer and such a prestigious end user."
Coolair was founded in 1980 and specialises in providing tailored cooling and heating services to the retail, residential, commercial, education and hotel sectors.