On the 22nd June 2017 Coolair attended the 10th Anniversary Charity Karting Event at the outdoor Daytona Race Circuit in Milton Keynes. All proceeds went to AGE UK and Barnardos Charity.
The event was a 3 Hour Endurance Race with 24 teams of suppliers and contractors and Coolair picked up the 3rd Place prize.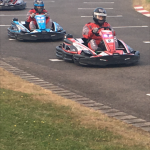 The team consisted of team captain Scott Lightfoot, Steve Waters, Nick Allpress and our Santander host Lee Barrow
Many thanks to Santander for inviting us back again this year, always happy to help support the work you do supporting such good causes.