Friday 13th was certainly not unlucky for Coolair staff & clients who attended our final fundraising event for our charity cycle ride in Vietnam & Cambodia, held at Moxhull Hall.
The marquee was packed and guests enjoyed an evening's entertainment including speeches, comedy, a prize raffle and charity auction.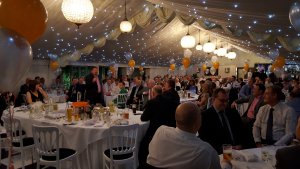 Ex-footballer & now Sky Sports pundit Paul Merson gave a frank and amusing account of the highs & lows of his career, and the laughs continued when comedian Austin Knight took to the floor. The jokes may have been "vintage" but most of the room were crying with laughter by the time he brought the evening to a close.
A huge thanks goes to everyone who donated prizes for the raffle, and to those who put their hands in their pockets on the evening & generously donated to this worthy cause by putting their hands in their pockets during the evening in the charity auction. There had been silence & a pause for thought when earlier in the evening Mark Roberts of Challenge Cancer UK asked for a show of hands in the room to see who had been affected by cancer, either personally or through friends & family. Virtually everyone in the room raised a hand, which really hit home at how much work this and other charities helping to fight cancer still have to do to.
Funds raised this evening brought the total raised by the gents who set off to Vietnam next week to a staggering £74,093! What better incentive for everyone to pedal hard, push through those 450km's and cross the finish line knowing how much their hard work will be appreciated.