Team Coolair charity cycle ride from Saigon to Ankor Wat
Final Word goes to Challenge Cancer UK
Welcome home! 
Massive congratulations to all of you for taking on the Vietnam to Cambodia Cycle Challenge, and for the money that you've raised so far – you've absolutely smashed the target! We're so very grateful to you.
I hope you've come back with a lifetime of memories, tons of photos, and some new friendships. I think these challenges even teach you a lot about yourself, about true teamwork, and that you're actually capable of a lot more than you thought – whether that be coping with more than you thought you could, or pushing yourself further than you thought possible. I hope we delivered what we promised when you signed up, and more!
I said that these challenges were life-changing, and they truly are. The money you have raised supports patients and their families at every stage of the cancer journey. As a charity we are also working closely on awareness and prevention of cancer. Together, we have to find a way of stopping this dreadful and indiscriminate disease.
If you still have monies to collect, I'm sure you'll delight in telling your sponsors just exactly what you had to go through to earn their money. Please keep chasing up all those pledges and promises – we rely so heavily on your efforts, and the funds you bring in.
So, thank you again for having taken on this challenge. I thank you for what you have done, and on behalf of all those you have helped. 
In terms of things you get to do in your life, trying to save someone else's is an amazing and selfless act – please be incredibly proud of yourself. We are!
With thanks and all best wishes,
Mark 
Mark Roberts BEM
Founder & CEO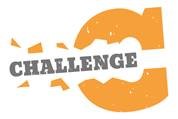 Our Blogger
We couldn't end this blog without saying a huge thanks to Neil Gibbard. In the little spare time he has running our Cannock office, he has managed to organise this trip for us, arrange some very successful and well-supported charity evenings AND send back daily blog postings at the end of each day's ride. The event wouldn't have happened without Neil's energy & enthusiasm, and a well-deserving charity would have been a lot poorer. So a big round of applause from all the Coolair team, clients and everyone else who has been involved in this project in any way. We may now give Neil a couple of year's break before the next adventure!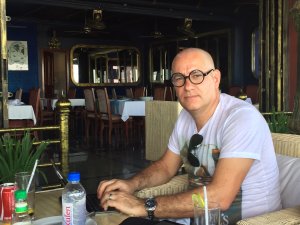 4th December – The End
Well our final day in the saddle saw us cycle for 40.1 miles from Kampong Thom to Siem Reap, with a saddle time of 3 hrs 24 minutes. Our total mileage in the 6 days cycling was an impressive 295 miles (475 kms)
En route today we visited the ancient bridge at Kampong Kdei, which is over 800 years old. We stopped for our final cycling lunch in Rolous Pagoda, one of the oldest and most famous Buddhist monasteries in the area. Cambodia had a very contrasting landscape to Vietnam and the pathways were very dusty and covered in red sand.
After cycling the final 10 miles after lunch, we re-grouped for the final mile and cycled the last leg together, stopping briefly for a team photo with Angkor Wat in the background. We then jumped back in the saddle before turning right and over the Charity Challenge finish line.
This was a very emotional moment for all the team members who embraced each other with love and respect having supported each other for the 6 days in hot, humid and punishing conditions. Life time memories and friendships have certainly been created between all the members of TeamCoolair. It was no easy feat but every team member successfully completed every mile of the journey.
Mark Davies from the Dodd Group described the 'after party' in Pub Street as a very relaxing evening with lots of time to reflect on the 7 day "experience of his life". Although the majority signed up to the 5am trip to sunrise at Angkor Wat, there were a few 'no shows' (mentioning no names) when the bus turned up at the hotel to collect us. Some of those who did make it arrived just in time having returned just in time!
Andy Robinson from Lewis Facilities described how humbling the people in both countries were, with an apparent lack of niceties and belongings that are common-place in our lives, however they could not be more welcoming as we rolled up to take fluid and snack stops at their homes. A feeling of disappointment was experienced by Andy as he passed through the finishing line as he was going to miss further days sat in his hot & sweaty saddle with a great bunch of guys from the length and breadth of the UK.
Andy recognised the varying degree of experience and abilities in the team and appreciated the advice and motivation from other members of the team. He would like to express his sincere thanks to the Directors and Coolair staff for the smooth running and successful completion of the trip.
Phil Todd of BSE 3D concluded "this event demonstrates a uniqueness of our industry where relationships can be formed by bringing the supply chain together for the benefit of society. Charity Challenge and Mitsubishi Electric have proved excellent partners and Coolair really have stepped up to the mark to lead the way as a 'best in class' contractor. Well done to all the Coolair team and participants in raising money that will help provide such needed support for so many people."
The total raised to date is £82,300 and continues to rise as donations come in.
3rd December – Day 6
Our day 6 entailed cycling from Phnom Penh to Kampong Thum, 44 miles done in 3 hrs 19 mins, average speed 13.3mph Max speed down a large bridge was 31.8 mph ! Min temp 90degF – Max temp 102degF
Partway thro' the day we stopped off at a street market and some had the pleasure of having tarantula placed on their tops!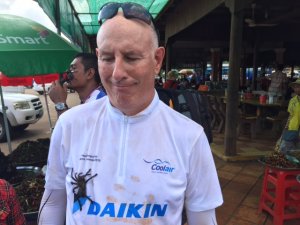 A special mention for Marco and Sam from Charity Challenge who have integrated into 'TeamCoolair' and have undertaken their roles in a very professional and friendly manner
Tom Williams from our Partner supplier, Mitsubishi Electric commented on the crazy departure from the Phnom Penh Hotel in the morning rush hour up and over the bridge onto the ferry. Considering how tentative we were when we started the challenge, we have almost gone native in how we attacked the chaos of the Phnom Peng rush hour.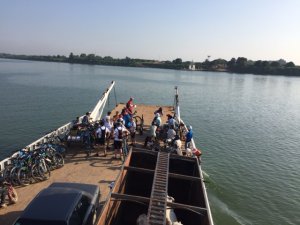 Although there was a distinct difference between the lush landscape of Vietnam and the arid dustbowl of Cambodia, the one commonality was the fantastic reception we received from the locals. Despite the fact that they live in almost third world poverty, they received us with a welcome that at times is almost overwhelming and gave us all memories that will linger for a long time.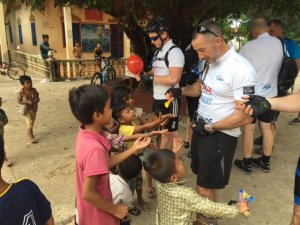 The final leg of the journey consisted of 30km across a main Cambodian artery during the midday sun. We shared the motorway with children on mopeds, carts pulled by oxen and vehicles of all shapes and sizes with passengers holding on for dear life. We were all delighted to finish the leg, it was a different challenge to all of the previous days and we all appreciated the finishing line.
2nd December – Day 5
Today was the earliest start so far – the so called 'rest day'. So far we have cycled 198 miles in 4 days and the team remain fully focused on the miles left to complete in Cambodia. Last night, whilst the team ensured their hydration levels were still being 'topped up' a battle commenced with the local mosquito community.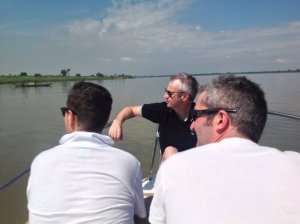 Breakfast was served at 6.15am with a 7am departure to the local port for a 1 hour boat transfer up the Bassac River and entry into Cambodia via Passport & Border control. From here we continued up the Mekong Delta and docked at Phnom Penh with lunch at The Foreign Correspondents Club. This was used by all the foreign press during the Vietnam war, where stories and news updates would be gathered and sent to their respective news agency's offices and studios. We then collected new bikes for the 2 days cycling in Cambodia starting Thursday and finishing Friday afternoon.
Dinner was taken at Friends International Restaurant, where the profits are invested in the local students who work there.
Gary Soloman of J Mills Contractors is very much looking forward to his Cambodia leg and feeling stronger & fitter after each day. Rumours surfacing of Team Sky taking an interest in his cycling ability and stats have yet to fully materialise. His trip so far has been much better than he ever expected. When asked what his first expectations of the trip would be, he thought that we would all be camping therefore the standard of local hotels and food served has far exceeded these expectations.
Gary also praised the Vietnamese tour guides who have been exceptional and taught him far more about Vietnam than he expected. He felt that it's not just about the cycling but taking on a whole new life experience. In the future Gary would seriously consider coming back with his family, having felt very safe at all times and enjoyed the hospitality of all of the locals in the numerous villages we've ridden through.
1st December  – Day 4
Our last day & night in Vietnam – 46 miles completed with around 3.5hrs in the saddle
The cycling was mainly on roads with a steady hill climb as we approached the border with Cambodia. This is the first time we have seen hills, as the land cycled to date has been very flat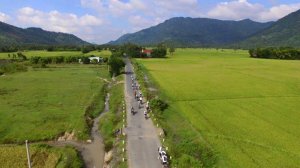 Several stops and roadside visits were made. This included a brick kiln factory, whereby clay is taken from the Mekong and formed into bricks. The source of the heat for the kiln is the rice husk, and the resultant ash is then used as fertiliser for the land, so there is barely any waste.
The second visit was to a frog farm, not the best place to visit in the heat!
Our final visit was to a Vietnam Killing Field site. This was very harrowing for the whole team, as our guide talked us through the shocking events and walked us around the site with photographs and human remains showing a story of complete horror…..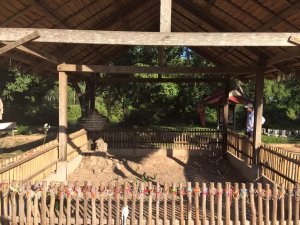 Phil Todd of BSE 3D commented on the trip so far, being a "inspirational visit, where he has been inspired by the generosity and hospitality of the Vietnamese people. Team Coolair have already formed a lifelong friendship bond as we share the highs & lows of each day"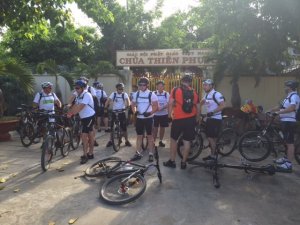 30th November – Day 3
54 miles covered in a very long day with a ride time of 4.43 hrs (total hrs spent 8.25 from start of the day until the end) Average speed 11.5mph, 492 elevation gain
The day started with a trip to the floating market, local traders take fruit & vegetables to the market on the river, where products are sold to others on boats. 
During the ride the team stopped off at the road side market, with our MD choosing a snake and a bag of snails.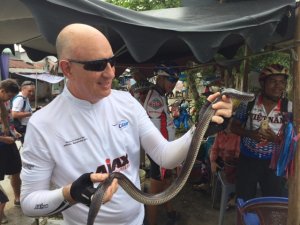 Some 2 hours later, we will leave it to you to decide what was served up….
A lot of the ride was along waterways and canals with lots of narrow bridges and narrow pathways.
29th November – Day 2
We started out today on the bikes from the hotel in Tra Vonh and headed out to see our 1st Buddist temple. The majority of the day was then spent cycling through rice paddy fields out in the beautiful green countryside. Another very hot, sunny day, peaking at 40deg c around 2.30pm in the afternoon.
 Mark Davies from the Dodd Group Midlands described the day as "a gruesome day in the saddle" and spent hours trying to fit a plaster on the blister on his bottom. Apparently he was suitably assisted by his 'room mate' who has asked to remain anonymous! On a positive a note Mark said the ride "was an amazing way to see the country"
 Lee Barrow from Santander thought the day was his "hardest 52 miles of his life" but with an "amazing feeling of achievement" as he crossed the finish line.
 The 52 miles concluded with a Team Coolair v Tour Guides 5-a-side, with Coolair winning 4 – 2 during the 15 minute match. A few of the Team Coolair made the wise decision to give the match the 'wide berth', a very sensible decision given the open air astro-turf pitch! Hopefully the guides won't take it out of us tomorrow, with that being our longest ride, planned at over 60 miles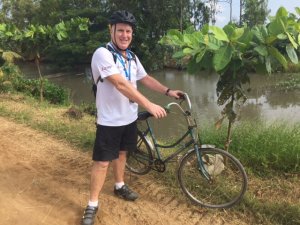 The day concluded with a 30 minute drive into Can Tho, the largest City in the Mekong with over a million residents.
28th November – Day 1
A very hot and humid 1st day with extra miles added from the planned 33 miles due to a road closure, adding a further 12.5m to our ride. Temperature peaked at 39.5deg c (over 100F)
The average speed achieved by the group was 11 mph over a moving time of 4 hours 7 minutes & a great team camaraderie has already been created between our customers, staff and guests from Mitsubishi Electric.
The route took us through Villages, the town of Ben Tre and over waterways, including a 20 minute ferry crossing over Song C6 Chien river
Mike Shanahan from Atos commented on how much we all have & still want for more, and yet the locals here have nothing and go about their daily life with such happiness. Craig Coles from CGJ Building Services said it was one of the best days of his life, a very emotional and humbling day.
27th November – Arrival
Arrived safe! And from the photos it looks like perfect cycling weather.
First & most important stop is the bike shak, picking out the wheels – & the comfy saddle! – to see you through the next 6 days riding.  Then time for some refuelling & some rest time before the hard graft starts tomorrow.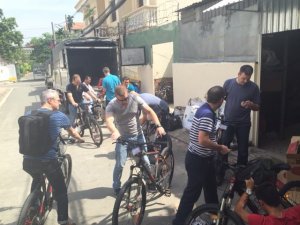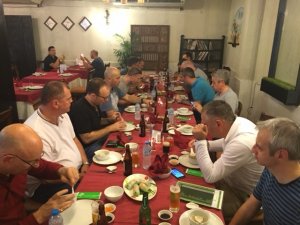 26th November – Setting off
Well, 26th November 2015 has finally arrived & our team of Coolair staff, clients & suppliers have met up at Heathrow. After a long flight they'll be ready to stretch their legs, saddle up and ride off in the heat to start the long ride from Saigon in Vietnam to Ankor Wat in Cambodia, raising money for Challenge Cancer UK.
450kms of tough cycling awaits, past plantations, across waterways and through villages deep in the heart of the lush Mekong Delta in Vietnam, to the dry lands and contrasting sights of ancient Cambodia.
Coolair's chosen charity is Challenge Cancer UK whose ambition is to Conquer Cancer Together. Challenge Cancer UK is a national charity whose aim is to support those affected by all stages of the "cancer journey". They raise funds for cancer awareness, prevention, research, plus patient treatment and care, and to support those affected by cancer.
The fund-raising events we've held through the course of 2015 (Golf Day, Summer Ball and Charity Dinner) plus individual fund-raising efforts raised a staggering total of £80,111 before the group have even left the country, so huge thanks from everyone at Coolair & Challenge Cancer UK for this amazing effort.
Anyone who'd like to support us can find our Just Giving page at www.justgiving.com/teams/Team-Coolair-cycle-from-Saigon-to-Ankor-Wat, all donations are gratefully received
Please check in regularly as we'll be following their progress daily over the course of the trip. Good luck gents, keep us posted!